A while back I discovered a blog called Gardening without skills who host a monthly Garden Blogger's Death Day. Given my 'talent' in the garden I was thinking this would be something I could quite easily take part in.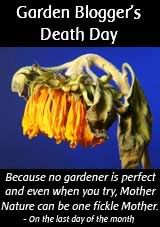 Now granted I had more than a little assistance with the death in my garden this month, but it still seemed like the perfect opportunity to share with you the destruction, desecration, devastation and desolation that we returned from our holiday to.
While we were away both the sheep and the pigs decided to take advantage of the situation and they rampaged, ran amok and rioted through our vegetable patches. I must admit that at this point in time I am still in mourning and the future of the pigs in particular is still rather precarious.
While we were on holiday and receiving reports we were both in denial about the potential scale of the damage, now we have faced it ourselves we both seem to be quite firmly stuck in the (very) ANGRY stage of grief.
The sheep were in fact on the front lawn when we arrived home from the airport, and had eaten a significant portion of the leaves from the two apple trees we planted this year and knocked down the pear!
You are maybe wondering at this point why the post is called Purple Death Day? I am assuming you can figure out the death day bit, but the purple is because today also happens to be the day for entries to this months Wine on the Keyboard photo competition, and the theme is Purple.
I figured the photo comp would provide a lighter finish to a very depressing post, I was going to use my purple brussels as a subject but found it too demoralizing trying to get a good picture, so I went with what they haven't eaten! Plus my Dad really likes thistles so I figured he would appreciate it!